Teresa Borcz-Khalifa freed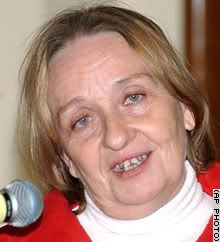 The Polish/Iraqi woman had been kidnapped from her home and held by terrorists for nearly a month. She was
freed Friday, and arrived in Poland that evening
. She spoke at a press conference in Warsaw on Saturday, saying
"the kidnappers treated me decently. They explained they acted so for religious reasons."
Thank God she's safe. But something just doesn't smell right to me. Anybody else find this all a bit strange? This group has never been heard from before, and can't be connected to Zarqawi. She's married to an Iraqi and has been living there for 30 years. She was suspected of espionage, working for the Polish Embassy while Saddam Hussein was in power.
I have a feeling we'll be hearing more about this.