Polish-American relations getting better and better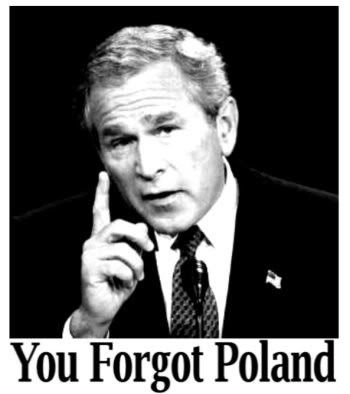 But has the American public noticed?
With the British public becoming more and more dissatisfied with their country's partnership with the US administration, the British-American "special relationship" seems to be losing traction. However, another European country - Poland - continues to strongly support American policy in Europe, and it seems ties are growing closer by the day.
American diplomats here express gratitude for Poland's unwavering support, and relief that they don't experience the same kind of problems that their colleagues in Western Europe face. "We see eye to eye on just about everything," a fairly-high up diplomat told me recently.
But being here in Poland, it seems the US is consumed with political strife - both sides of the political divide attacking each other, and not noticing that despite much of the bad press that the US gets, an extremely strong ally is growing in Central Europe.
Is this perception accurate? Has the American public
forgotten Poland?
I'd like to know what you think.
Wisely, it seems the Bush administration has not:
From
Monsters and Critics.com
Poland's PM to focus on missile defence, Iraq in US

Warsaw - Making his first trip to the United States since taking office in July, Polish Prime Minister Jaroslaw Kaczynski was expected to focus on the possible basing of missile defence in Poland and his country's role in Afghanistan and Iraq.

Kaczynski, who heads the right-wing Law and Justice (PiS) coalition government, is scheduled to meet with US Secretary of State Condoleezza Rice and Vice President Dick Cheney.

President George W Bush and Kaczynski are not scheduled to meet as the US president has in the past met with Lech Kaczynski, Poland's president and brother of the prime minister. Jaroslaw's aides have suggested Bush might, however, drop in on the meeting.

Kaczynski will also meet with House Speaker Dennis Hastert Thursday before meeting with John Krenicki Jr, the chief executive of global energy goliath General Electric Co.

Energy security is a top item on the agenda of the Kaczynski government, which is currently seeking to diversify suppliers and wean Poland from its heavy reliance on Russian fuel supplies.

Insisting energy security is a crucial part of national security, Poland is also spearheading a drive within the EU to frame a common energy security alliance for the 25-member bloc and beyond.

Kaczynski, 57, will also meet with heads of the large Polish community in Chicago Thursday and then fly on to visit the Fort Worth US military base in Texas on Friday. Kaczynski is due back in Warsaw early Saturday morning.

Prime Minster Kaczynski will be accompanied by several cabinet ministers including Defence Minister Radoslaw Sikorski and Foreign Affairs Minister Anna Fotyga.

As ardent anti-communist activists throughout Poland's pre-1989 communist era, President Kaczynski and Prime Minister Kaczynski both have a fondness for the late Ronald Reagan.

Reagan is still seen as a hero by the country's Solidarity opposition for his strident anti-Soviet politics and support for the Polish movement, which succeeded in peacefully toppling communist rule in Poland in 1989.

The law and order agenda of Prime Minister Kaczynski's PiS party in many ways resembles a US Republican approach. The party has promised to crack down hard on crime and corruption in public life and is also stridently anti-leftwing.

It is particularly critical of Poland's ex-communist Democratic Left Alliance party (SLD), which it blames for much of the corruption in public life.

The SLD lost both the presidency and government in elections held last autumn. The party's four-year term in office had been plagued by a string of high profile corruption scandals involving senior politicians.

Reagan and the Kaczynski brothers also share a personal history of being actors before becoming politicians. While Reagan was a Hollywood cowboy hero on the silver screen, the Kaczynski twins are famous in Poland for playing two very naughty boys in the children's' Polish cinema classic 'About Those Two Who Stole the Moon.'

After narrowly winning Poland's September 2006 general election, the PiS eschewed a long-promised coalition with the runner-up liberal Civic Platform (PO), instead allying itself with the populist Samoobrona farmers' party and the Catholic-nationalist League of Polish Families (LPR), Poland's equivalent of the fundamentalist elements of the Christian right in the US.

Recent polls show the LPR is rapidly losing public support, to the point where it would fail to re-enter parliament should elections be called. Support for Samoobrona remains steady at around 10 per cent, while the ex-communist SLD is also in danger of exiting parliament and slipping into political oblivion, less than a year after leaving government.

Surveys, however, show the PiS and PO running neck-and-neck enjoying roughly 30 per cent support each.

Some political observers in Warsaw have suggested the Kaczynski brothers are intent on creating a two-party system in Poland, along the lines of the Republican-Democratic divide of the US rather than the more volatile multi-party constellations which can be found in European politics.

The next true test of party popularity is expected November 12, when Poles will vote in local government elections.
It may not have made the papers in the States, but there were also several touching ceremonies commemorating the September 11th attacks on Monday. Largest of these was the
unveiling of a monument in Kielce
which expresses solidarity with Americans.
Cross-posted at
Redneck's Revenge
. Check out the
comments there
to see what conservative America thinks.