Duck and Brussels sprouts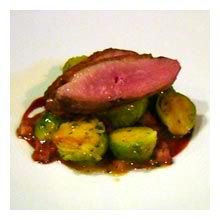 Prime Minister Jarosław Kaczyński is using his first trip to Brussels to set the record straight
You might not know it, but there are some nasty rumors going around about Poland in the EU. Whispers in the halls of
Brussels and Strasbourg
can be heard accusing Poland of
xenophobia, homophobia, and even anti-Semitism
.Yucky stuff.
Fortunately, Prime Minister Kaczyński flew into Brussels yesterday to tell those nasty Brussels bureaucrats that all of that is absolutely, 100% untrue!
From
theparliament.com
:

"Don't believe in the myth of anti-Semitic, xenophobic Poland," Kaczynski told a Brussels press pack.

"There are homosexuals in Poland who have very high positions in politics and even on the right of politics. This is a media thing, it is not real."

Well. That clears everything right up.