Putting on their election hats
Who's the biggest populist in Poland?
You know election season has started in Poland when populists start promising the
moon
. With local elections just a couple of months away, the three parties in Poland's ruling coalition have begun a game of political one-upmanship, each seeing which can promise more voters an election gift with the biggest bow, and which can portray previoius fiscal reforms as a more outrageous pillaging of the state.
The pit-bull and the bugbear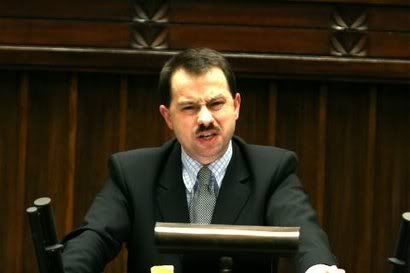 We start off with Law and Justice (PiS). This week the party sicced its pit-bull Artur Zawisza on that bugbear of all Polish anti-reformists, central-bank chief Leszek Balcerowicz. Zawisza heads the Banking Investigative Commission – PiS' pet project – which was created with all but the express purpose of publicly hanging Balcerowicz for all of Poland's economic woes since the transition from communism to capitalism.
Just as the commission was gearing up to have its first meeting, Zawisza suggested the existence of "notes" written by Polish Special Services alleging that Balcerowicz had cheated the state during the privatization of Bank Pekao in 1999.
Balcerowicz's head on a platter is just the kind of gift the ducks would love to give their constituents in the runup to the elections, and evidence that he had cheated the state out of billions would have piled up the votes for PiS. But when Balcerowicz threatened legal action against Zawisza, the pit-bull backed off with his tail between his legs faster than you can say "spayed and neutered", whimpering that he had only pointed out a conflict of interest.
The damage may be done however, as the insinuation of these notes' existence is enough to convince those who want to believe Balcerowicz pilfered state coffers. And since Balcerowicz is expected to undergo a long, nasty interrogation by the commission in front of TV cameras for the whole country to see, PiS may gain the political capital they're looking for yet.
Balcerowicz, who can always be counted upon to shoot off an inflamatory quip whenever there's a microphone nearby, is so exasperated that he compared the government to that of Iran, and said it was causing Poland's democracy to "degenerate".
"There is a competition among the coalition partners as to
who will be a bigger populist
," Balcerowicz told public radio yesterday morning.
Back to the future
Which brings us to the League of Polish Families (LPR), the ultra-conservative reactionaries who are in danger of not winning anything at all this election season. To pump up the poll numbers, the party has pledged to become even
more hardline
- and began that campaign two weeks ago with a proposal to re-introduce the death penalty in Poland.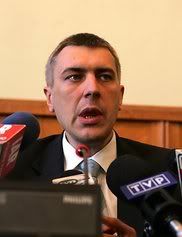 Monday, the party's Frankenstein-in-chief, Roman Giertych, said that his party would work to enact a law allowing the government to retract the privatization of any previously state-owned firm that his party deemed unlawful, and demanded the support of the coalition partners. Which firms would be targeted, and whether the state would pay compensation to those it snatched these companies from is as yet unclear. No worries though. "The value of seized assets would be higher than potential compensation," LPR deputy Wojciech Wierzejski guarantees.
Getting this law past a little thing called the Polish Constitution would prove a herculean task, but that matters little, as the proposed law has no chance of ever seeing the light of day. However, simply proposing it just might get enough LPR voters to the polls to keep them present in some local governments.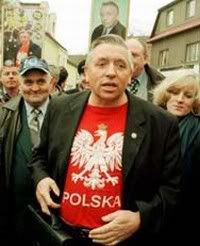 Not to be left out, Poland's premier pugi-populist, leader of Self-defense Andrzej Lepper, has decided to buy his votes the old fashioned way: with direct handouts from the budget. He wants the government to spend more than the zł.30 billion ceiling they've set for themselves on things like miners pensions and fuel subsidies for farmers. If they don't, he's threatened – again – to leave the coalition and force early elections.
"If there is not a pro-social budget...we will not approve it and this means early elections," Lepper told public radio yesterday.
Of course, nobody actually expects him to
go through
with this plan. He's just making sure all the farmers know whose side he's on when it comes time to head to the polls. Seriously, how can anyone believe a word he's saying anymore?
How can anyone believe a word
any
of them say anymore?
And why do the Polish people keep falling for this?