Thank you, Stevie Y
Yesterday, Detroit's greatest sports hero decided to hang up his skates for good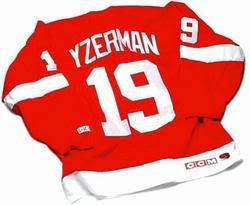 It's quite a claim, I know. After all, in the annals of Detroit sports he has to compete with such names as Ty Cobb and Joe Louis. Magic Johnson and Barry Sanders graced our stage. In hockey alone, Detroit history reverberates with names like Abel, Sawchuck, Lindsay and of course, Howe.
But in my mind, Stevie beats them all.
The claim could be made based on the statistics alone. Take a look at
the hockey record books
and youll find the name Yzerman falls into the top 10 of just about every record that counts, nipping at the heels of the great one more consistently than Lemieux, Lefleur, or Messier.
There was more to Stevie's hockey career than the scoring records though. He won the Selke trophy, the prize for the best defensive forward, in 2000, but could have won it many more times. After leading play up the ice, setting up a scoring chance, and rushing toward the net to poke at a rebound, he would fly back to his own end of the ice faster than the rest of his teammates only to save a goal by putting his body on the line to block a shot.
He did all of this with an aching back and rusty knees. He came back after "career-ending" surgery after surgery after surgery. He did this despite rumor after rumor that he was on the trading block. He did this despite fading hopes that the team that he captained for 20 years -- longer than anyone else in NHL history -- would ever win a Stanley Cup.
His name now appears on that cup three times. For one of those campaigns he was deemed the most valuable player to his team in the playoffs.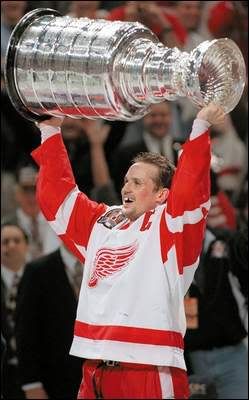 Don't forget to add an Olympic gold medal to that array of trophies and awards, all of which put together still don't do him justice.
Yes, there is still more to Stevie's storied career than a work ethic and a loaded trophy room. Stevie was an example of how hard work can beat pure talent (though he had plenty) or dirty play, in an age when
talent trumps experience
and more and more folks believe
you have to play dirtier than your opponent to win
.
Stevie was unlike any other. Unlike M.J., He never whined. Unlike Kobe, he let his teammates take the credit. Unlike Beckham, he was great on both sides of play. Unlike Montana or Gretzky, he remained with a single team throughout his career.
In an age of sports heroes who continuously let their fans down, Stevie never disappointed. Each time he stepped onto the ice, he gave everything he had. Each time he stepped off the ice, he had a good word for his teammates.
In a city that found little to brag about from 1983 to 2006, Stevie gave us something to be proud of in words and deeds, on and off the ice. He led by example, not only for his team, but for an entire city, teaching me and many like me how an athlete should behave, on and off the rink, field or court. He played with dignity, and with honor. He typified what it meant to be a man.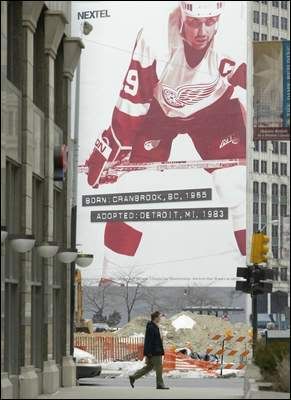 That is why it's clear to me that Stevie Y, as we know him in Detroit, is this town's greatest sports hero. He gave us much more than great play and great memories. He gave us back our pride.
So today, less than 24 hours after his career comes to an official end, more than anything, The Captain deserves our thanks.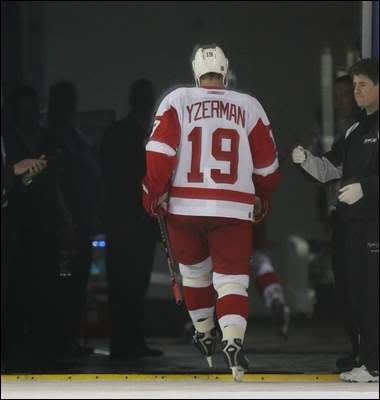 People blogging about Stevie