Dubya and the Duck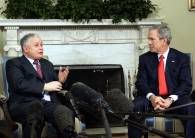 It seems not much notable occurred at today's meeting between Polish President Kaczyński and President Bush, though we did get another nice little lesson in friendship from Dubya - one that we've had
before
.
"I asked the president his advice on Ukraine," Bush said. "That's what friends do - they share information and share strategic thoughts."
There was no change in stance on the visa issue, and even little discussion of it, despite the Duck telling a Polish radio station before he left for the US that if Poles wouldn't get visa-free travel to the US, he'd work to make visas a requirement for Americans coming to Poland.
However, Kaczynski did take
the olive branch extened by Vladimir Putin
two weeks ago, when he said that Poles and Russians were "cousins", and that they should look to the present rather than squabble over past differences.
"There have been certain signals that might lead to an improvement of relations between the Republic of Poland and the Russian Federation," Kaczynski said. "We have no certainty yet, but these signals we have received, and we're hoping for an improvement in relations between Poland and Russia."
The sincerity of Putin's words remain to be seen, but many political analysts believe this could lead to a warming of relations.
PiS cuddling up to Putin? They're adopting his
strongarm tactics
, isn't it only natural that soon they start sharing strategic thoughts?
After all, that is what friends do.