When cabbage met chow mein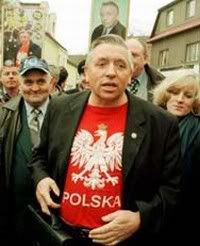 Poland's most prominent populist is in China this week despite the current political crisis here at home
Polish politics is experiencing an unprecedented period of crisis. The current minority govenrnment led by Law and Justice (PiS) is
grasping for any political straws
that will bring them at least a temporary coalition before a critical budget vote, which, if it fails or is delayed, could trigger new elections. Yet another set of negotiations with the party that was considered to be its natural coalition partner before last autumn's elections, Civic Platform, broke down (again) last week, leaving PiS little choice but to renew coalition negotiations this week with the populist farmer's party Self-defense (SO).
However, SO's leader, the wily former pugilist Andrzej Lepper, isn't interested. He flew to China Sunday at the invitation of the youth communist party there, and was
received in Beijing yesterday by Wang Zhaoguo, vice chairman of the Standing Committee of China's National People's Congress
. Lepper's goal, according to
Gazeta Wyborcza

(Polish link)
is ostensibly "getting to know the mechanisms of the Chinese economy." Apparently, Lepper wants Poland follow China's example, since "through its own finances, through its own national loan policy, [China] achieved development of industry and agriculture." Interestingly, when Self-defense invited the youth organization to Poland last year, the group's leader said that Lepper's program was "similar to our communist one."
While Lepper's policies are undoubtedly of a commie hue, it's surely the Chinese government's tight control over the value of the yuan which Lepper finds most intriguing. He is perhaps most famous for his calls for Poland's top central banker, Leszek Balcerowicz, to be removed from his position, and for matters of monetary policy to be put in the hands of the state.
Of course, the Economist-dubbed potato-thrower has no influence over monetary policy now. So why this sudden trip to the Orient at the behest of the Central Committee of the Communist Youth League of China, when the right-wing government at home is gaining in popularity and itching for new elections?
Lepper knows that as long as PiS and PO are at each other's throats, he is the kingmaker in this country. After the failure of a coalition with PO, every other conceivable coalition government with PiS at the helm must include SO. While PiS may do well in an election after a successfully-passed budget (since October PiS has gained a 10-point lead in the polls over PO), failure to pass the budget would confirm the incompetence of the PiS government, who in three months in office have still not formed a coalition, and
whose first choices for Treasury Minister and Finance Minister have both resigned in humiliation.
That leaves Lepper in a tremendous position of power. In order to go into early elections (which now seem a foregone conclusion) with a strong record behind them, PiS will need the support of Lepper's party on the budget. Self-defense, on the other hand, has very little reason to support PiS' budget, which would put PiS in a position to gain an outright majority (hence neutralizing SO) in the early elections.
After last week's farse
in which PiS leaders in the Sejm attempted to delay work on the budget for weeks, it's clear that PiS likes the poll numbers it's seeing, and wants early elections as soon as possible. However, PiS knows those numbers won't hold if it can't even pass a budget for this year, leaving only three choices for PiS: 1) Honor PO's demands, and form a coalition with them (now highly unlikely); 2) Honor Lepper's demands (whatever they are), and form a coalition with SO; or 3) Call early elections with no budget, and blame the failure on PO and SO.
Since both parties know that only PiS would benefit from early elections, 1 and 2 look increasingly unlikely, unless some major concessions are given to Lepper – which would be extremely bad news for Poland. The third situation is most probable, which is even worse, since despite all of their foul-ups and backtracking, PiS still seems to have a stranglehold on a majority of the Polish public's trust.
So Lepper might as well go ahead and spend a week in China, observing their "economic mechanisms" - He's got Poland's whole political future waiting on his return, and if PiS makes a bad bet on early elections, he just may find an opportunity in the future to put what he learns this week to use.