PiS bigotry already rears its ugly head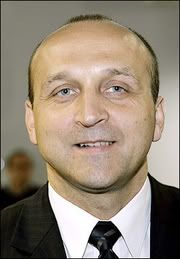 Poland's PM to be says
homosexuality is a threat to liberty

AFP
:
Poland's likely next prime minister, Kazimierz Marcinkiewicz, has described homosexuality as "unnatural" and believes the state should stop gays "infecting" others with their behaviour, according to an interview.

"The spread of homosexuality is a threat to the liberty of other citizens, Marcinkiewicz, 46, named by the conservative Law and Justice (PiS) party to lead the next government, told the Polish edition of Newsweek.

"If a person tries to contaminate others with his homosexuality, the state should intervene against such an attack on liberty," he added.

"Homosexuality is not natural. What is natural is the family. The state must protect the family," said Marcinkiewicz, a devout Roman Catholic and father of four.

The PiS party won the most seats in legislative polls held on September 25 and has been in talks with second-placed Civic Platform on forming a coalition government.

In June, when he was mayor of Warsaw, PiS party leader and presidential candidate Lech Kaczynski banned a gay parade in the capital.