Clowns to the left of me, jokers to the right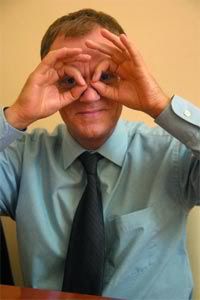 Here I am, stuck in the middle
Is Civic Platform full of political pussies?
For those of you with your fingers not quite glued to the pulse of Polish political news, you should know that some very clever political maneuvering has been going on.
The jokers
The ruling coalition recently railroaded through a law (and when I say "railroaded", I mean that in order to get the law out of committee for a vote in the Sejm, they added 30 members of their own coalition to the committee and then forced the opposition member heading it to resign), which makes it highly advantageous for parties to team up and form coalitions for this autumn's local elections.
This was done mostly to save a member of the governing coalition - the far-right LPR (League of Polish Families). LPR had a very slim chance of winning anything in the elections, and by joining in a voting bloc with the two other parties in the governing coalition, they just might have a shot at a couple of city councils.
Importantly however, if LPR still fails to garner five percent of the vote, the two other coalition members will be able to absorb LPR's vote, and count it towards their own vote totals.
Still with me?
The clowns
Since the governing coalition is mostly right-wingers (in the "conservative moral values, high-spending big government, neo-con" sense), the left immediately went out and formed a coalition of left-leaning (in the "liberal moral values, barely-fiscally responsible, post-communist" sense) parties. This included the corruption-ridden ex-communists with a new face (SLD), the supposedly not-so-corrupt ex-communists with an old face (SdPl), the ex-partners of the ex-communists (UP), and the social/economic liberals with 0 chance of winning anything.
This group won't win a great deal - but these parties' power is certainly strengthened put all together, and they take on political clout as a large opposition group that they couldn't boast seperately.
Stuck in the middle
This leaves Poland's largest opposition party - Civic Platform (PO) - without any coalition at all. Not wanting to sully themselves by joining the populist Kaczyński faction, but also shying away from getting into bed with former communists, PO has no political friends. Rumor has it that a bizzare coalition with the agrarian-based PSL might be in the works, but the ideologies don't mesh at all, and PSL is tiny - barely making it into the parliament itself in last year's polls.
PO will still win a large number of posts in the upcoming local elections, but their strength as an opposition party has been diminished. Those who lean further to the left but still previously voted for PO because they were the "anything-but-Kaczyński" party, now have a viable alternative.
In these elections the Left will do much better, and PO worse, than would have been the case if all the parties had run seperately.
Some PO supporters have been critical of the party, saying it simply refuses to get its political hands dirty - a necessity on Poland's current political landscape. Warsaw Station has learned that PO's candidate for the Warsaw mayor, Hanna Gronkiewicz-Waltz, has been repeatedly accosted in the streets by her own supporters, all making note of her opponents' attacks and demanding: "Why don't you
do
something?!"
This is not a new accusation. PO has been particularly ineffective as an opposition party despite a deeply unpopular governing coalition.
So on Saturday,
PO launched a new ad campaign
(Polish link), which - according to some - very harshly attacks PM Jarosław Kaczyński. Borrowing from the masters,
PO's commercials mimic some used by George Bush two years ago
(Polish link). It depicts the Prime Minister, well, yelling a lot - So much that it upsets a baby.
PO considers this tough campaigning:
PO is hemorrhaging support in the form of the student exodus. It can't form any effective political partnership. It is unwilling to hit the opposition hard. If it doesn't grow some
jaja
pretty soon, its days on the Polish political scene are likely numbered.