As long as we've got their prisons...
why not their rockets too?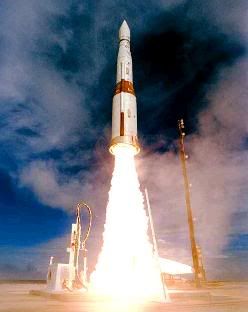 The US' next project in Poland?

Gazeta Wyborcza
is reporting that Poland and the United States have been holding
secret negotiations
since last year as to whether to build one of three anti-rocket bases in Poland.
Poland's involvement in the US' anti-rocket shield program was revealed in an section of Prime Minister Kazimierz Marcinkiewicz's roadmap for government.
Wyborcza
says that the previous government had also attempted to attract the program to Poland, but always unofficially, for fear of angering European partners. Poland is competing with, among others, Hungary and the Czech Republic for the base.
In another
article
Gazeta
reports that Dominique Moisi from the French Institute of International studies, says: "Did Poland consult its decision with European allies? Poland sees itself in the EU as a bridge between NATO and Europe. Together with this new government the question arises: Hasn't she already gone to the other side of the bridge?"
If Poland completely disregards Europe in matters like these, is it any wonder that countries like Germany go and completely disregard Poland (and Europe) when they sign reckless gas pipeline deals with the Russians?
How can Poland insist it has the right to make an individual decision about whether to allow a new US military installment on European soil, and then ask for a "common position" on Russia?
Europe is not a pot-luck buffet.