Tusk finds a way to blow his lead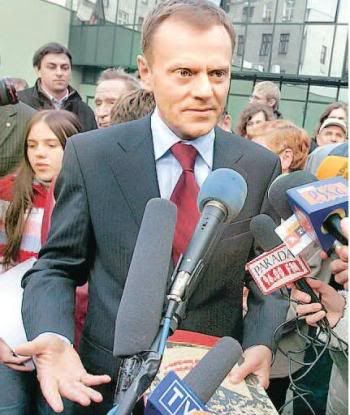 I had to blow it

somehow
I knew he would find a way to do it, I just didn't know how. But
this
is certainly not what I was expecting:
Poland's presidential frontrunner says shocked by family's Nazi links


Reuters-

Polish presidential frontrunner Donald Tusk said on Friday he was shocked to learn from media reports that his grandfather served briefly in the German army during the Nazis' brutal occupation of Poland in World War Two.

When the campaign manager of his conservative rival Lech Kaczynski first alleged Nazi links earlier this week, Tusk dismissed the charges as a dirty campaign trick, insisting both his grandfathers had been prisoners in Nazi concentration camps.

His strong denial prompted an apology from Kaczynski, who
fired his campaign manager.

But on Friday two TV channels reported that documents in Berlin archives showed Tusk's grandfather, Jozef, served in an auxiliary training battalion in Germany's Wehrmacht for several months towards the end of the war before joining a Polish exile army that fought with the Allies in late 1944.

The documents did not say whether Tusk's grandfather joined the Wehrmacht voluntarily or was forced to enlist - a frequent occurrence in the northern Kashubia region during the war.

"I didn't know anything about it. I learnt it today. This is a day of a big challenge for me. I am shocked by the fate of my grandfather," Tusk told public television on Friday night.

Any hints of collaboration with Nazi Germany are highly damaging in Poland. Six million Poles are estimated to have died during the nearly six year occupation by Adolf Hitler's troops.

Tusk won the first round of presidential elections last Sunday, three points ahead of Kaczynski. The two will compete in a run-off on Oct. 23.

The latest opinion poll on Friday showed Tusk with 57 percent support, a lead of 14 points over his rival. The race has grown increasingly hostile as the final vote draws closer, with each camp accusing the other of lies and mud-slinging.

"This is a very important moment of this campaign," Tusk said. "People will stop and think whether Tusk is telling the truth. But I am telling the truth," he said.

"

For all my life I was convinced that I know every detail of my family's life.

Now I feel sorrow.

"It was better for my grandfather not to let a man like me know this part of truth about him because he taught me how to love Poland. And I see no reason why I should no longer be proud of parents and grandparents."
"So what?" you might ask. So he didn't know - it's not like anyone from that generation would go around bragging about getting dragged into the Wehrmacht.
Let's not forget: Tusk is an historian.
The guy has written books about the history of Gdańsk.
Are you telling me he didn't look into his family's history? Was it such a difficult connection to make? All the news program "Fakty" had to do was
call up the Wehrmacht archives (Polish link)
. This was not inaccessible information.
Also he is a
Kashubian
, a Polish minority - are you telling me this guy wasn't interested in his own family's history enough to do some simple digging?
Indeed, he knew that both of his grandfathers had been imprisoned in concentration camps - how convenient that he didn't know one was in the Wehrmacht.
No, he knew that his grandfather (not [only?] his grandfather's brother?) was forced to join the Nazis. But the truth is boring, and probably gives Kaczyński momentum. If nobody picks up on his lie until next month - he's already in office. Instead, they found out within days, and now his credibility is crushed.
Expect Monday's polls to be hard on Donald.