Gustav goes to Georgia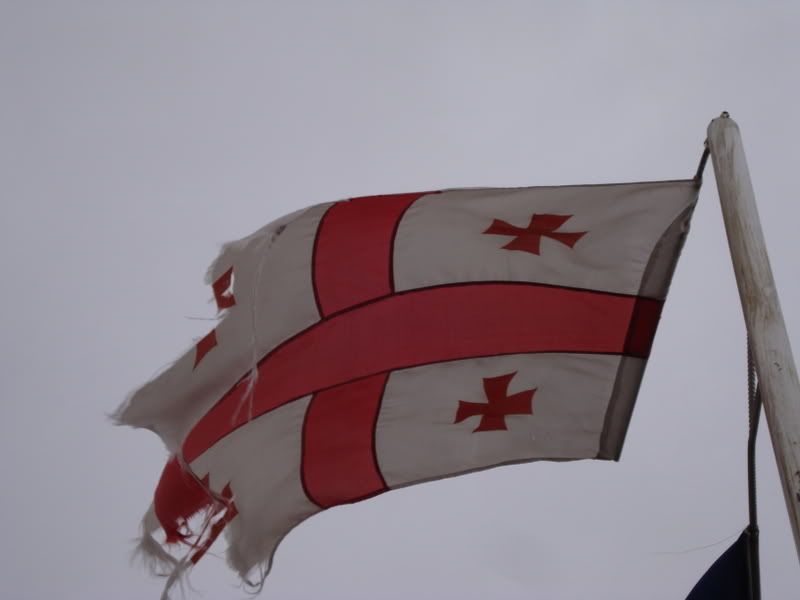 I was recently in Georgia (yes, the country) on a press trip. Since I no longer have any real time to blog, here are my press notes, 2 1/2 months after the country's war with Russia.
GENERAL IMPRESSIONS OF GEORGIA:
This place is at least as poor as Morocco. GDP is minuscule, as is GDP per head. The complaints of the Georgians we have run into so far include those that were common in Poland not so long ago – our bus driver complains that his daughter speaks 3 languages (Russian, German, and Georgian) and has a degree in economics, but still can't find a decent job. She was finally hired by a Turkish company. Her salary is some 300 lari (<$300) per month. Pensions are 70 lari per month. There is apparently dissatisfaction at gov't policy to keep wages low and deny workers rights in favor of investment.
GDP has been roaring forward over the past few years. GDP growth was 10% in 2006 and 12% in 2007, but that is expected to drop to just 5% this year due to the war. While Poland would be happy with 5% next year (will probably be somewhat higher this year), Georgia's economy is so small that to raise standards of living to Western standards at a satisfactory rate, it must grow much faster. Most of the slowdown is due to the complete shutdown of the tourism industry in August, usually the busiest month for tourism.
"We [her tourism company, as well as others] shut down tourism in August. Even though some said 'Ok, we are ready to come,' we cancelled all tours," says Inga Belova, our tour guide. "We simply didn't know what would happen. [Despite the signing of the ceasefire], there was this plan to take Tbilisi, so we were forced to shut down everything," she says.
We pass houses being built for refugees. How many refugees are there? We ask. Belova doesn't know the answer, but gives this anecdotal evidence: "I can tell you that every school in Tbilisi had at least 400 refugees each," she says.
The people are absolutely fantastic. Most are jet-black haired and brown-eyed. Skin tone varies, though there is much tan skin. It is rainy and chilly our first day in Georgia. When asked if this type of weather is typical for Georgia in August, our tour guide says "No. It is usually quite warm."
As racist/stereotypical as it sounds, the people here seem just like a mix of slavic and arabic. Big, slavic noses and eyes, with the dark hair and eyes of Turkey or Iraq. Geography seems to support this idea. Or have I made it up as a result of the geography and my own prejudices?
We walk through cave town (Uplistsikhe) which is a UNESCO World Heritage Site. It's rather boring unfortunately. There are several dug-out pits with small crevasses leading down into them. Some are for wine that is squeezed from grapes, and some of these are collectors for the blood of sacrificed animals. Georgians still sacrifice animals apparently, and now connect it with their Christian faith. Another interesting part is an amphitheater which still has Roman carvings on the ceiling.
The Georgian flag was adopted with Mikeil Saakashvili's rise to the presidency. Though it contains St. George's cross, the tour guide maintains that "Georgia" comes from the greek "geo" or land, since Georgians lived off of the land. According to sources, ancient literature refers to Georgia being very big on the cult of St. George. The 9th-century basilica at the site of the cave city complex is dedicated to St. George, and has many pictures of him.
Walked around park in Borjomi. Park is large, with many facilities (several children's playgrounds, including a "fairyland" as well as a cable car which one can ride to the top of a mountain which rises up on the edge of the park. Other relatively modern-looking buildings, but don't know what they are).
A plaque/bench at the entrance of the park says it was opened in 2005 jointly with President of Georgia Saakashvili and Ukrainian President Yushchenko. However, the Belova says the park opened just last year.
Gori:
Gori – Is this the city that we heard on the television and radio reports was devastated by Russian bombs?
If it was the authorities have done a tremendous job of rebuilding. Two and a half months after the conflict, not a single bullet hole, not a solitary bomb hole is visible. The Georgian authorities have covered up every trace of the war in hopes of bringing the country back to normal as soon as possible.
"They were considering leaving one of the destroyed houses – like in Hiroshima or Nagasaki," explains Belova. "But they soon gave up this idea. Everything has been rebuilt."
It's certainly difficult to tell. A statue of Stalin still stands proudly before the local parliamentary building, which somewhat ironically resembles a miniature Reichstag.
Gori is the city where Stalin was born, and a museum to his tribute still stands, along with his first house in the city and his original traincar that he used during World War II. If the bombs reached this particular Gori landmark, there are no signs to show it. And despite the Russian invasion this past August, the population hasn't given up their affinity for the home-grown dictator.
"Stalin was a very generous man," gushes a guide at the Stalin museum in Gori, as she points to portraits of the young revolutionary.
"I have to warn you, they are crazy about Stalin here," Belova tells me, though it's obvious the citizenry is proud of the small-town boy who grew up to lead one of the 20th century's superpowers for 30 years.
Gori – with a population of 70,000 Georgia's fourth-largest city – closely resembles a provincial Polish town. Students in modern fashion wander the streets along with unkempt and unemployed 50-somethings. The inside of the Stalin museum, for all of it's carefully laid-out interior, is surrounded by a certain disorder, with the unkempt bushes and lawns around the building. The architecture mostly comprises the classic communist boxes, with fragile, wood-framed rectangle windows and re-bar guards/decoration.
Bakuriani ski resort town:
A small ski-resort town. Picturesque, but under construction. There is a gleaming new, modern-standard cable-car system which has been built there and opened last year, but which is still incomplete. The third station at the top of the mountains is still under construction. In fact, the lower, bottom gondola station does not look complete, there is still much construction being done all around – there is an entire "city" being being built there. "All of this will be ready by the middle of the ski season, in January (ski season lasts until March)" said Belova.
"All of the land for development is already sold," she adds.
Looking at the state of things, it's difficult to believe that they will finish all of the construction by that time. It seems possible though, if they continue to build through the winter. But there is much to be done.
The roads in Bakuriani are extremely bad. This is of course understandable given the amount of construction. Once the construction finishes, the roads are to be paved. All of this is to be finished by the end of 2009.
A ride on the new cable-car system for the whole day costs 25 lari, or approximately $18.
The city itself is a schitzophrenic mix of the Soviet and the modern. Communist-style pensionats stand next to beautiful, modern, ski lodges. In these gleaming lodges sit burgois tourists from Austria and the Baltic states, while poor Georgians hang their laundry outside, and drive old scooters hauling wooden trailers behind them. Ugly yellow gas pipes run above ground, exposed. Cows still graze in pastures near the ski-slopes.
Currently, this is likely not the most comfortable place to take a skiing vacation – but certainly full of atmosphere and hospitality – and beautiful views. There is much, much more coming obviously, and within 3 years this will be as handsome a ski resort as any in Europe, Though perhaps not as big.
According to Belova, Bakuriani is a resort not necessarily for "expert" skiers who want the most challenging slopes, but is rather for families. Hard to believe, really. Doesn't seem like anything would be easy, and though most everyone speaks Russian, there seem to be few English speakers. This is sure to change when the new infrastructure revs up and young, professional tour operators, guides and hoteliers start coming in. Perhaps they are already there, but it sure doesn't look like there would be infrastructure there to support them.
Another drawback of Bakuriani is that a day trip to Tbilisi is impossible. Apparently there is more "expert" skiing in Gudauri, which is also closer to Tbilisi.

THERE ARE STRAY DOGS EVERYWHERE!!!
In this ski resort town we meet Omari, the owner/administrator of a small hotel (Apollon), who invites me to the basement with Misha (Mikheil, the bus driver) for some vodka, apparently produced by his family. We drink some of his family's wine. I get pretty darn tipsy after about 4 shots of vodka and 2 or 3 glasses of wine, which both Omari and Misha order I drink right down. We drink to friends, we drink to our families, and we drink to our countries.
"America and Georgia good. America and Georgia friends," exclaims Misha. "Russia no good, Russia no go," he adds, and pounds down a glass of home-made wine. Omari, who is 66 and tells us that he fought in the Red Army, just shrugs and smiles. He repeats Misha's words but it is unclear if he is trying to make sure I understand or if he actually agrees. Misha expresses his pride in never having served in the Red Army. He is 60 years old – my father's age, and full of life. He has one grandchild. Omari is 66 and says he has three. He served in the Red Army, he says.
Borjomi-Kharagauli National Park:
Largest national park in Georgia (of approx. 10) at 78,000 ha. It's a gorgeous gorge, Beautiful.
August is peak season for tourists at the park, so the Russian invasion basically wiped out tourist season there. Park officials say they lost 40,000 lari, which is not all that very much, but when one considers that until now the park averaged only about 2,000 paying visitors per year. (Georgians don't typically go there, as so many already live close to nature.)
Can hear the sound of chopping wood. The locals were originally against the park (opened in 2001) because they were worried that they wouldn't be able to chop their own wood for the winter. A compromise was reached that there are certain areas where they are allowed to chop trees for their own heating use, but they are not allowed to sell it.
A trip for journalists to this park to write about tourism there was planned for August, as part of the park's cooperation within a European park system to help promotion of the park. This trip was canceled, obviously.
Tbilisi:
Rustaveli Avenue is the main avenue in the city, on which lies the Opera & Ballet House stands.
A new, posh Kempinski hotel is being built where the center for Marxism once was.
Tbilisi's architecture comprises many mixed styles. Over the years, many architects were invited from all over the world to design and build its buildings.
The typical Georgian style of architecture is characterized by several living spaces surrounding a common courtyard. Belova says that "You share your life with your neighbors."
Tbilisi's subway was built in the 1960s and comprises 2 lines and over 30 stops – much more than Warsaw's!!
Freedom Square – at the center of which is a pillar on top of which is the traditional depiction of St. George slaying the dragon. In communist times this square was of course called "Lenin Square".
Took picture of church at top of hill under construction - Armenian Gregorian church. Belova says that relations between Georgia and Armenia are very good.
Tbilisi used to be famous for its sulfer baths, but now there are only a few. The water ranges from 24-42 degrees Centigrade and is rich in hydrogen sulfide. Belova says that they are under the protection of UNESCO (Can't find sources to support this).
Plenty of casinos, called "slot clubs" including the "Nevada Slot Club". The letters of the sign advertising this location have an American flag pattern.
Meeting with officials
Acting head of tourism ministry:
Baltics, Ukraine and Poland are emerging markets for Georgian ski tourism.
In 2007 there were 1 million foreign visitors.
Since 2006 there is no VAT for "incoming tour operators" (?)
80% of backpackers come for cultural events (?)
Tourism represents 3.5% of total GDP.
There is a "solid" budget dedicated to building roads. This budget is still being worked out, so the number isn't known yet. Acting minister believes it will take 2-3 years to "improve" the roads. All of this information is very sketchy.
In terms of which nationalities visit and who does what: Armenians – over 100,000 last year, visit Georgia's seaside resorts.
Those visiting the ski resorts such as Bakuriani are mainly Ukrainians – 80% of tourists.
In 2009 Georgia is targeting the Baltics (understood to include Poland), Ukraine and Israel as markets for Georgian tourism.
Latvian Ambassador:
Eco-tourism is the future here.
Estonian Ambassador:
Advantages for Georgia include its long summer and Georgians' hospitality.
Estonian evacuees during the war were mostly backpackers.
Lithuanian Ambassador:
Georgia can follow the example of Spain, which grew its tourism industry from 1% of GDP under Franco (check) to approx. 11% of GDP today.
The main thing is infrastructure. Roads are terrible and must be improved, according to Lithuanian Ambassador.
Georgian Military Highway:
Our tour guide is fond of saying that it now has nothing to do with the military nor a highway, but as highways go, Poland would do well to have something like this. Stretches throughout Georgia, east-west/north-south.
According to Belova, the highway dates back to the 19th century, as a road which armies aiding Georgia would travel into and through Georgia on. However, the first passes of this road were built under David the Builder (probably the most famous/respected Georgian king) in the 12th century.
Guduari ski-resort town:
Here we find extremely good tourist infrastructure – and there is much more coming. There is lots of construction and lots of nice hotels, as well as plenty of skiing facilities. Though there are some "huts" and small, run-down, tin-roofed houses, this place has obviously benefited from tourism investment.
Our hotel in particular was lovely, and had all of the trappings any traveller could reasonably want. The director of the hotel says that when it was built in 1987, it was given a four-star rating, but that this didn't help tourism any, due to the "mess" under communism. Now, the hotel has no official star rating, but my experience tells me that this could reasonably be called a 4-star hotel, at least at Polish standards. Though there was no Wi-Fi in the rooms, the director says that internet is available. Perhaps it can be purchased or perhaps there is an internet cafe – though I didn't see one. There is also two lanes for Russian-style bowling and one Russian billiard table (like American pool table, except longer, with smaller holes and bigger balls. Extremely difficult! Still however, the hotel is really expensive. A standard double room costs 443.50 Georgian lari, or approximately $317. This does however include 3 meals per day. (Where else are you going to eat? All of the restaurants are connected to other hotels. There is no McDonalds, etc.)
Still, there are plenty of other, smaller hotels around, but with similar standards, so there is plenty of choice. And again, there is much more coming. Plenty of pics of construction.
Guduari is a 2 hour drive from Tbilisi. Most of the roads are difficult (and full of sheep herds) but not impossible for the Western driver.
Sunday market:
Saw them sacrificing a goat. Slit its throat and goat seemed to be in a lot of pain. Eventually they cut its head clean off and began skinning and cleaning it. Yuck. Reminds me that I do not believe in cultural relativism. When I remark that this is sad to one of my colleagues, he says yes, but this is what they do here. For me, if sacrificing is part of your religion then fine. If you are killing an animal to eat it, that is also fine. But create as little pain as possible for the poor animal. It certainly seems to me that having one's throat slit is an awfully painful way to die, and I am reminded that Daniel Pearl seemed to feel the same way. Yes, I eat hamburgers, but those cows are usually shot in the head as soon as they enter the slaughterhouse. If I had to be killed, I would rather be shot in the head than have my throat slit.
Tbilisoba (festival celebrating the city of Tbilisi):
Held every October, on the last weekend of the month. In one of the main recreational areas of town there is a festival of games and rides. Looks something like the travelling amusement parks in the US, with their cheap-looking rides. But it looks like fun as well. Plenty of games – a 3-on-3 basketball tournament, a judo tournament, and rock climbing. According to our guide, there are concerts in the evenings.
Guest-house stay in the town of Kakheti:
Kakheti is the easternmost region of Georgia. We stop at a guest house there for dinner, close to the town of Telavi.
Dinner is the highlight of the evening, where several Georgian men, including the head of the household, sing for us during dinner. This is a traditional Georgian activity. The men sing sitting down, at various periods throughout dinner. At other times, the head of the household, also the "leader of the table" or "Tamada" proposes toasts – first to God, then to the household, then to women, love friends, and to Ukraine (several members of our group are from Ukraine) and the US ("our big friend across the sea," he says). The songs come to a climax with one in particular that starts out slow and then speeds up. One of the younger men plays a guitar/lyre-type instrument. As the song speeds up, one of the older gentlemen grabs two knives and begins playing percussion on glasses and bottles standing on the table. Other men pick up plates and hold them upside down and in the center (as a waiter might hold his tray), and he drums on these as well. Obviously, when the song ends the men are rewarded with thunderous applause from our group.
WATCH:
Wine makers of Tsinandali (near Telavi):
At this humble home in eastern Georgia, Vajha Nikolaishvili and his son Nikolai run a small wine-making business. The main tree from where the grapes grow was planted by Vajha's grandfather more than 100 years ago. His wine is exported all over the world, sold mostly to private companies who package and export it. It is made according to old traditional methods. Crushed grapes are kept in a barrel for about a week, then placed in clay jars, the biggest of which is two tonnes when full. There are approximately ten of these clay jars, which, when standing on the floor, reach as high as the cellar's approx 8-foot-high ceiling. There are holes in the cellar floor, and the jars are lowered down into them, until the tops are flush with the floor. They are surrounded/covered by earth. According to Vajha, these jars are a "family". The two largest ones are the grandparents, he says, the two medium-sized ones are the "parents," and the many small ones are the "grandchildren."
The wine is put into these pots in September, and they remain in the ground until the New Year.
We have the opportunity to taste the wine before and during lunch – it comes from red plastic buckets he has sitting around the cellar, and he uses a small hose to pour it. It is easily the best wine I have ever tasted in my life. Who knew it would come from an old plastic bucket?
We also have an opportunity to watch Vajha's wife make bread in the traditional method. She first rolls circles of dough into slender cylinders, adding a dusting of flour or a few drops of water as she goes. The bread is baked in an oven which to me looks like a simple fire pit. It is a short, fat round structure with wood planks on the outside and stone on the inside. She bakes the bread by slapping the dough to the inside of the oven, where it sticks. As the bread bakes, it begins to peel off of the sides of the oven, which is how you know it is ready.
WATCH: