Iraqis aren't ready for democracy?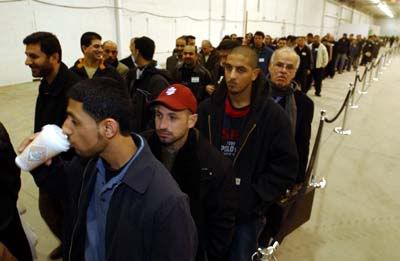 Hundreds drive hours to be part of history

Metro Iraqis revel in freedom to vote

There have been many desperate days for Iraqis in Metro Detroit since U.S. troops helped Iraqis pull down the statue of Saddam Hussein in Baghdad 21 months ago. But Monday was for celebration.

The smiling faces of freedom and democracy trumped the bitter cold, as hundreds of Iraqis and Iraqi-Americans traveled for as long as three hours to register to vote in an abandoned building supply warehouse for the upcoming Iraqi elections.

At times, the atmosphere was giddy. As people received their voting cards, some yelped with joy and applause echoed through the cavernous room. Many said it felt like a new birth of freedom.

"This is a very delighted moment for me. And thank God," said Abu Muslim Al-Haydar, who fled Najaf 1991, after joining a Shiite uprising against Saddam Hussein. "Iraqis have been waiting for this."

Metro Detroit, home to an estimated 90,000 Iraqis eligible to cast votes, is one of five locations in the United States where voters can have a role in choosing an Iraqi government and making laws until further elections are held in a year. About one million Iraqis around the world, 250,000 in the United States, are eligible to vote in the elections, January 28 through January 30, for a National Assembly in Iraq.
Read More
Too bad it's not so easy back home.